CASCADE Land and Homes LLC
Real Estate Professionals
Robert Tessmer
Oregon Principal Broker, Idaho Designated Broker
Office: (541) 405-4145 Cell: (541) 990-7533
A Veteran Owned Company
1.68~Acres With Fixer Cabin and River Views Overlooking The Sprague River Valley! Owner May Carry!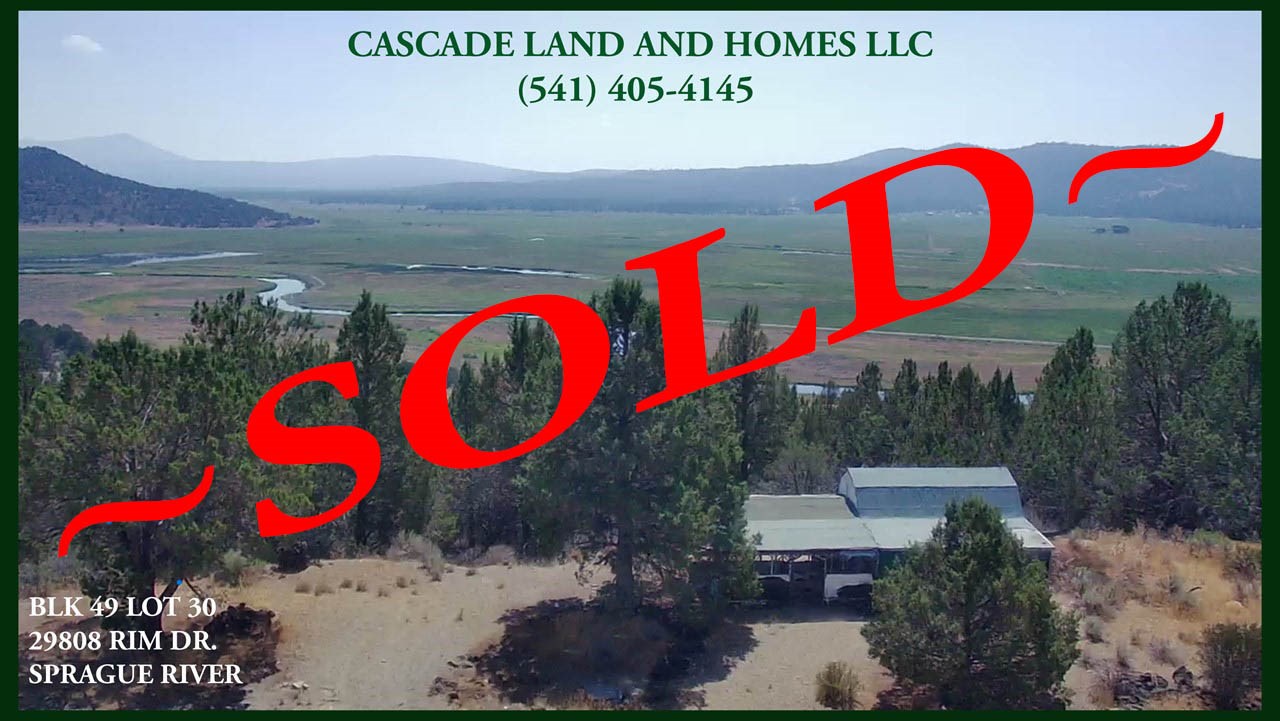 Scroll down for additional photos.
29808 Lot #30 Rim Drive
Sprague River, Oregon 97639
This Large, 1.68~Acreparcel looks out over the rim of the volcanic tableland plateau with spectacular views of the Sprague River Valley!
The owner may carry the note on this property with a reasonable down.
The property includes a fixer, Off-grid, "AS IS" cabin with a carport! No one has lived here for a very long time. It may have been a vacation getaway or hunting/fishing cabin at one time. The cabin has been grandfathered by the county and has been given a street address. With some work, you could fix this place up and make it just the way you like it! Sit out in the mornings with a cup of coffee or tea and soak in the incredible views of the valley, and the Sprague River meandering through the pastures and farmland below.
It is so quiet up here on the bluff, all you hear is the wind gently blowing through the trees and across the plateau, birds passing by overhead or a rare, but occasional neighbor driving by. It really is peaceful here. When you stand by the cabin, there is no doubt why so many years ago, this is the place that the owners at the time chose to build the cabin. The views are absolutely unparalleled.
The property needs a well, septic, and power. Power is within the subdivision, but the area receives around 300 days of sunshine per year, and some people here successfully opt for solar power or choose the off-grid lifestyle. Of course, be sure and check with local jurisdictions on the viability and costs of your plans. The subdivision does permit modular homes here. The property has a very gentle slope but is mostly flat. The driveway to the cabin has been cut in. There is a depression on the property near the cabin that seasonally holds water. According to county records, wells in the area are productive, and although not on this property, there are natural springs in the area.
If you have been looking for a spot to get away from a busy lifestyle and relax, or a place to use as a basecamp for hunting or fishing the local rivers and lakes, perhaps bring your horses and explore the area on horseback, this would make a perfect spot! If you are interested in this property, and the unique opportunity to own a piece of Oregon land with a cabin, and spectacular views, give us a call for more information!
Our office number is (541) 405-4145 or you can email Robert: Robert@cascadelandandhomes.com or call Robert's cell phone (541) 990-7533. Don't let this exciting opportunity pass by!