CASCADE Land and Homes LLC
Real Estate Professionals
Robert Tessmer
Oregon Principal Broker, Idaho Designated Broker
Office: (541) 405-4145 Cell: (541) 990-7533
A Veteran Owned Company
1.48 Acres in Nimrod River Park! Possible Off-Grid living!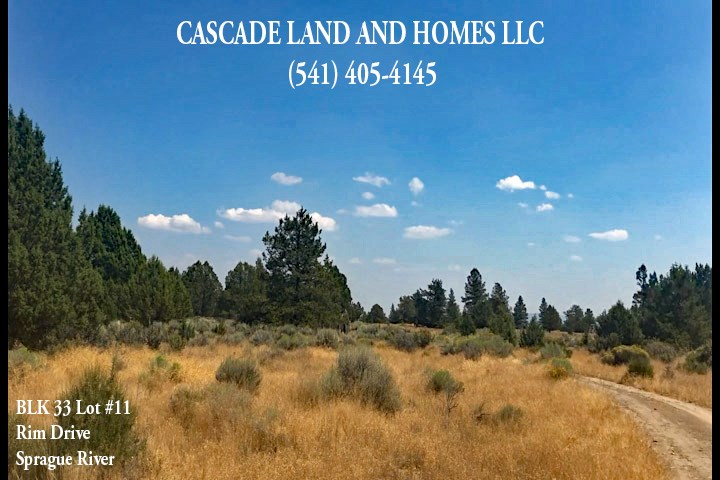 Scroll down for additional photos.
Lot #11 Rim Drive Nimrod River Park Blk 33
Sprague River, Oregon 97639
This large 1.48~Acre property has the possibility of supporting off-grid living! It is so quiet up here on the bluff, all you hear is the wind gently blowing through the trees and across the plateau, birds passing by overhead, or a rare, but occasional neighbor driving by. It really is peaceful here!
The property would need a well and septic, and power is relatively close. The area receives around 300 days of sunshine per year, and some people here successfully opt for solar power or choose the off-grid lifestyle. Of course, check with local jurisdictions for the viability, costs, and permit processes before building. County well logs show that wells in the area are productive and not too deep. They are not on this parcel, but there natural springs in the area. Roads to the subdivision are paved, and they are packed with gravel and dirt within the subdivision. Even though it is secluded here, it is not far from the entrance to the subdivision for easy access. The property has some native brush and grasses and slopes slightly. The Nimrod River Park Subdivision has many possibilities if you love outdoor activities! There are over 1,000,000 of acres of public lands nearby waiting for you to explore! The Sprague River offers excellent trout fishing!