CASCADE Land and Homes LLC
Real Estate Professionals
Robert Tessmer
Oregon Principal Broker, Idaho Designated Broker
Office: (541) 405-4145 Cell: (541) 990-7533
A Veteran Owned Company
.26 Acres WATERVIEW Property At Agency Lake!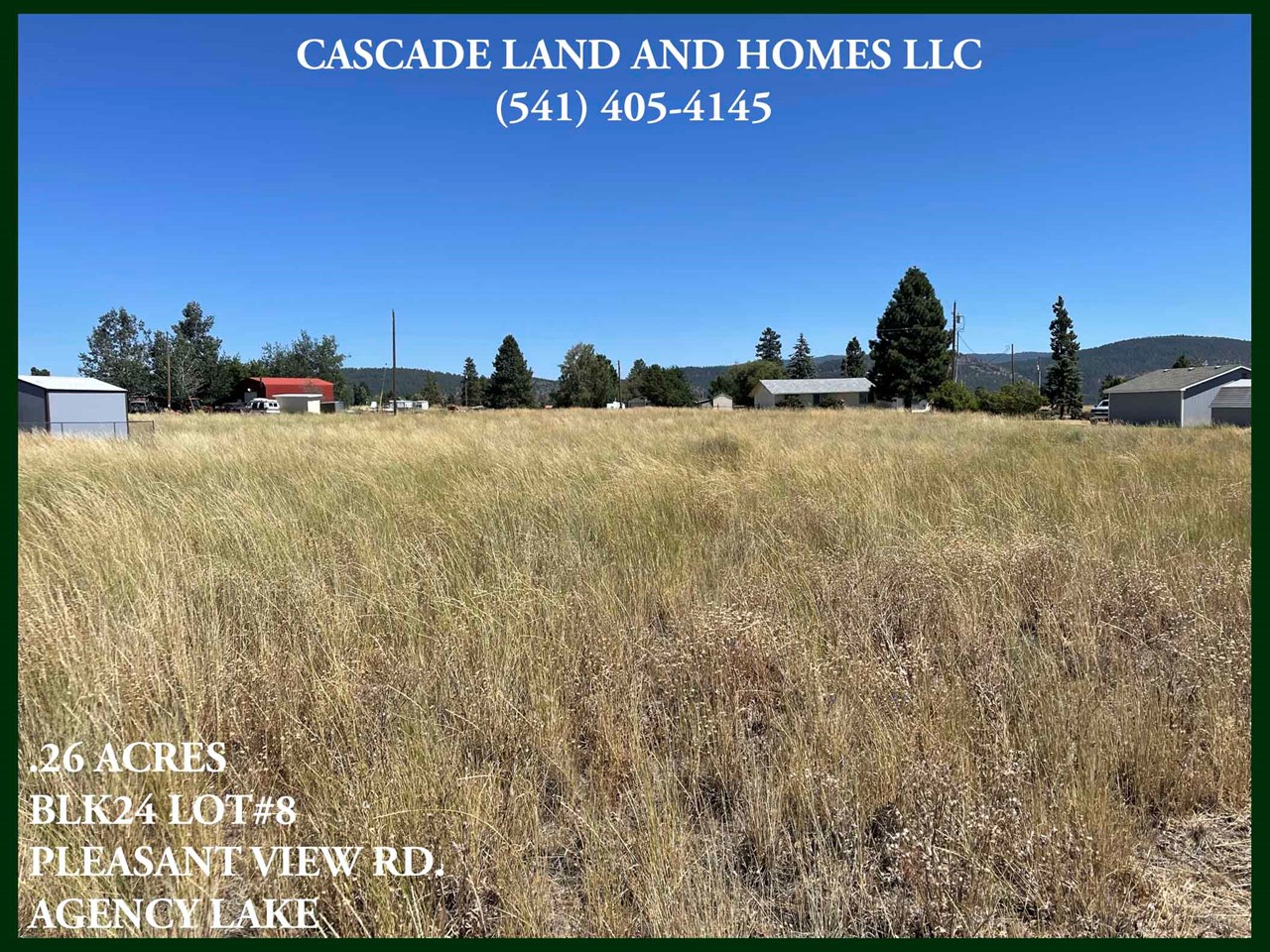 Lot #8 Pleasant View
Chiloquin, Oregon 97624
This area is known for its outdoor recreation, quiet, country lifestyle, and of course, world-class fishing! The people are friendly and come out to talk to us whenever we are there, and neighbors wave to strangers when they drive by. It's like going back in time when people were not so busy and spent more time outdoors and getting to know each other. The people we spoke with that live here full-time love the community and lifestyle here. There is so much to do outdoors, that you will want to spend your time outside doing what you love, and come home in the evenings to your new home at Agency Lake! With the views from this property, you could sit out on your deck and enjoy the sunset across the lake and over the Cascade Mountains!
This property is also just a short drive to DMOLO Golf Facility at Agency Lake! We took this photo in the early summer when wildflowers blanketed the entire area, including the outskirts of the playing area!
Henzel park is just down the road for fishing and boat launching, picnicking or just enjoying the scenery!
If you enjoy bird watching, Agency Lake is on the Pacific Flyway where you can often see bald eagles, sandhill cranes, and over 400 species of migratory birds! The Klamath area has the largest congregation of wintering bald eagles in the lower 48 states! We have even seen pelicans on the lake!
The area is considered high desert, and it does get cold here in the winters, but the area receives nearly 300 days of sunshine per year! There are some late spring frosts, so you may have to start your garden indoors, but the summers are warm and pleasant. With all that sunshine, the mountains, lakes, and streams offer a wide range of recreational opportunities, including boating, hiking, fishing, fly-fishing, paddle boarding, horseback riding, mountain biking, and in the winter, the snow offers winter sports over the Willamette Pass and the surrounding Cascade Mountains.
As you look out toward Agency Lake, the backdrop of the snow-capped Cascade Mountains to the west adds to the spectacular scenery of this high-elevation lake that sits at around 4,000 feet. To the east, the volcanic outcroppings and plateaus offer a stark, but complimentary contrast to the lush, green pasturelands and foothills that surround the lake.
There is just so much beauty here! If you would like more information about this fantastic opportunity to purchase a lake view property at Agency Lake, contact us today!